In a cottage in northern Jutland, Steen is coding software used in most of Europe
Northern Jutland software is used for recruitment in seven countries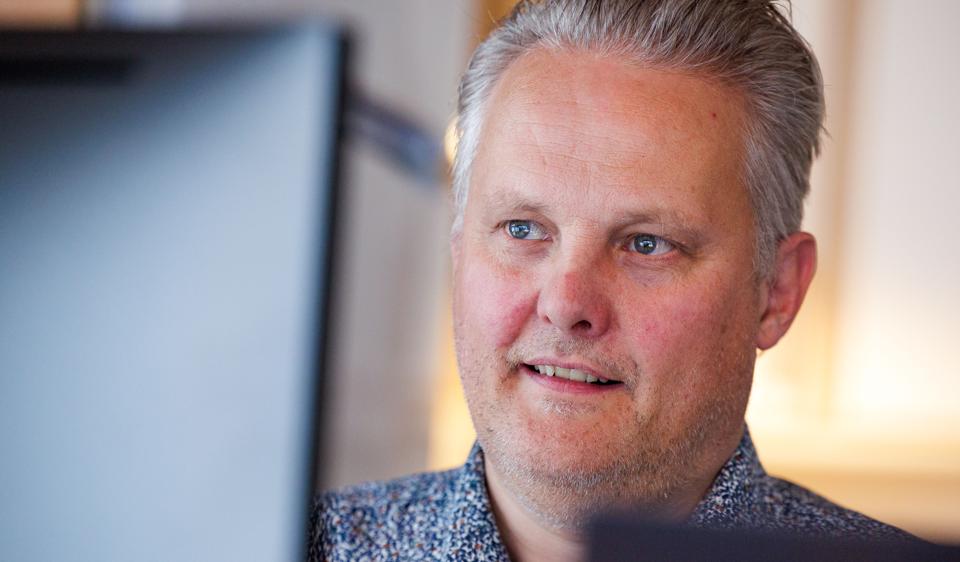 To help Ukrainians find work, Steen Wæver has translated the IPA Core Personality tool into Ukrainian. He has also made the program free for companies that are hiring Ukrainians. Photo by Bo Lehm.
SENNELS:The war in Ukraine has sent many of the country's inhabitants fleeing the fierce fighting that continues to unfold in their homeland.
As the war rages on, many of the refugees are trying to make a life for themselves where they have ended up while waiting for peace. This is also happening in Denmark, where Ukrainians all over the country are trying to become part of the Danish labour market.
This is where challenges sometimes arise. For how do you find out if you have found the right person for the job if, for example, you do not speak the same language?
One solution is found at IPA Nordic, a company built around the Danish-developed personality analysis IPA, which has been used in recruitment and development in working life since 1996.
At the forefront of IPA Nordic is CEO Steen Wæver Poulsen. When Nordjyske catches him on the phone on one of the most wintry days of the year, he has taken up residence in his summer house in Sennels.
– When I have to code big, heavy tasks, I come out here to the summer house, because here I can sit and work at the times when inspiration strikes, without it clashing with the family routines at home, says Steen Wæver, who lives and works in Aarhus, but still has close ties to Sennels.
A substantial part of the work he has done coding for IPA Nordic has been done right in the cottage in his childhood town, he says.
– IPA stands for Integral Personality Analysis, and it is the highest-rated research into behaviour, motives and preferences developed in Scandinavia, says Steen Wæver.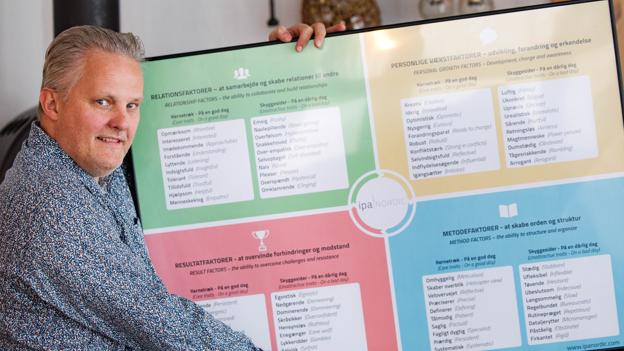 IPA Nordic bases its recruitment tools on a Danish-developed analysis that has been in use since 1996. Today, they are present in seven markets across Europe. Photo by Bo Lehm
In recruitment, personality analysis can help reveal what a potential future employee contains – for example, their preferences for solving a work task, what motivates them and how they function in communities.
– Such things as personal values can be difficult to put into words because they are shaped by, for example, upbringing, the inputs you get through life and where you come from. If you're going to make a change in your life, you may need to look at how your personal values play into that, and this is where the analysis helps to frame it," he says, adding:
– 'We Thybans, for example, are very adaptable, and we are adaptable because we don't like to stand out. But if you're going to get ahead in life, you might need to put that value aside a little bit.
The analysis is used by a large number of Danish recruitment companies. But IPA Nordic is also currently experiencing a high demand for its knowledge in HR work, which can be used to hold tailor-made employee development discussions:
– It is difficult to attract and retain talent in companies, which is why we have developed a tool based on artificial intelligence that can compare the answers from each analysis with a Danish norm population. This enables us to identify the unique strengths and talents of each individual," says Steen Wæver.
Whether you are recruiting a CEO or a production employee, IPA Nordic's tools are applicable. And that's where helping the Ukrainian refugees comes in.
– We are now present in most European markets, and when the war in Ukraine broke out, we spent some time figuring out what we wanted to do to help. If it had been the supermarket in Sennels that was in danger of closing, we could have stood on a beer stand and played some music to raise money. But what do we do for Ukraine?" says Steen Wæver.
He was approached by a customer who wanted to employ some Ukrainians, but the language barrier made it difficult for the company to know who the future employee was.
– I thought I could help with that. So we set up a project to translate the analyses into Ukrainian. It's a completely different language with a completely different alphabet, but we got it into a system and produced an analysis," says Steen Wæver.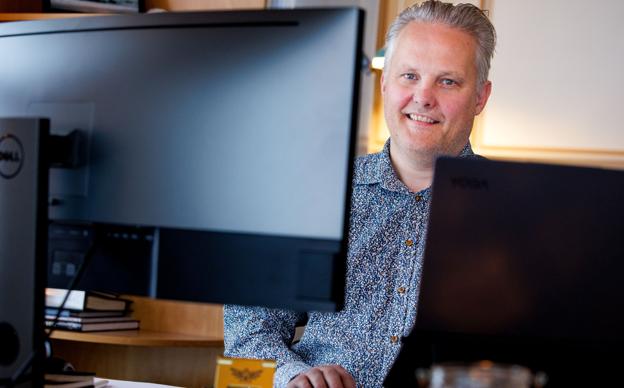 To help Ukrainians into work, Steen Wæver has had the IPA Core Personality tool, used in recruitment, translated into Ukrainian. At the same time, he has made the programme free for companies considering hiring a Ukrainian. Thisted 14 December 2022 Photo by Bo Lehm
IPA Nordic then joined forces with some partners to make the IPA Core Personality analysis tool available free of charge to Danish companies wishing to hire a Ukrainian.
– There is a big difference between a Ukrainian personality and a Danish personality, and our tool makes it possible to compare the Ukrainian behaviour analysis with a Danish norm population. That way, we can learn more about how the Ukrainians fit into a Danish workplace, and it will give the employers an easier way of assessing a future employee with a different cultural background than our own," explains Steen Wæver.
The word about the new analytical tool and the project with the Ukrainian refugees has already spread beyond Denmark's borders, something that IPA Nordic was not prepared for.
– We have already translated our analysis into several languages, including Polish. And we've seen a number of Polish companies approach us because they also have a lot of Ukrainian refugees they'd like help employing," he says, adding:
– Most recently, we have brought in a Polish company with almost 3,000 employees, which has now chosen to use IPA Nordic for everything related to recruitment and employee development. And I think it's a bit funny that I can sit here in the cottage in Sennels and develop on a software that is being used in most of Europe right now.