The concept of employee satisfaction has come under increasing scrutiny as people have come to the forefront as the decisive parameter for a company's success.
The qualitative change in customer needs and expectations, the completely changed market conditions due to internationalization and free access to information, the increased demands for service in both the pre-purchase process and the aftersales phase, market segmentation, product differentiation and many other megatrends have moved us from an industrialized society to a society of change.
Those who can't keep up will be left behind and disappear into history's oblivion.
RELATIONSHIPS &
COLLABORATION
The world is changing – and so is employee satisfaction
Employee satisfaction is one of several qualitative parameters in an increasingly human-driven world. We no longer just do what we are told to do, but what we want to do. We make our own decisions to a much greater extent, which means that today we place far greater demands on our work life and situation than we did in the past.
Demands for development opportunities, challenges, content, freedom, etc. On the other hand, if these demands are met, we are also ready to deliver a much greater and more committed effort.
This means that the gap between a lack of satisfaction and a high level of satisfaction has enormous consequences for the efforts made and the results created.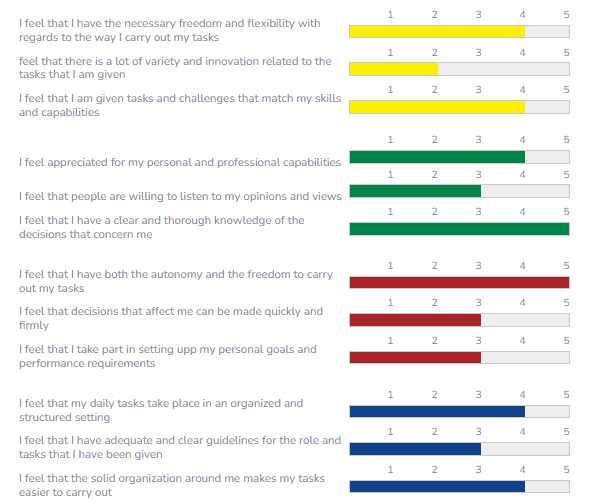 PA Employee satisfaction score
The realization that a company's performance is human-made and the recognition of the enormous potential that each individual possesses creates the big difference between companies that make an effort to increase employee satisfaction and those that don't. Low employee satisfaction means that, figuratively speaking, energy is leaking out of the company's leaks every single day, with the result that the efforts are only a shadow of what they could be.
Satisfaction is ultimately a matter of emotion
Psychologically, we talk about three different reactions: the very positive experience that creates excitement and motivation, the indifferent experience that creates no emotional reaction, and the very negative experience that has a destructive and demotivating effect on behavior. To get an overall impression of how employees are distributed, we show a top-bottom scale rating that gives a clear picture of the situation from a more psychological and motivational point of view. Who pulls the strongest in the group of indifferent employees
A happy IPA customer from our partner Strategic HR – where customer Think is big on employee satisfaction